NeXT 400 DPI Laser Printer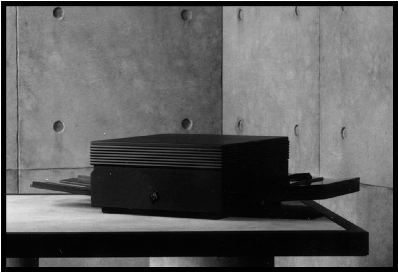 The NeXT Laser Printer combines high-quality, 400 dot-per-inch output with the same Display PostScript® imaging model used on NeXT computers,
for accurate reproduction.
At 400 dots per inch (dpi), the NeXT™ Laser Printer offers almost twice the resolution of typical 300 dpi printers. This higher quality is especially noticeable on line drawings, enlarged fonts, and images. (300 dpi is also supported, as draft mode)
The NeXT Laser Printer can print eight pages per minute, making it fast enough for both individuals and groups. With its high-speed dedicated serial interface, and with Ethernet networking built into all NeXT computers, the printer can easily be shared and still print complex documents and sophisticated graphics. Any PostScript® font available on your NeXT computer will print fully scaled and rendered on the NeXT Laser Printer. And the fully adjustable paper cassette accepts envelopes as well as letter- and A4-size paper.
No products found.
Copyright 2015 Black Hole, Incorporated, all rights reserved.